I AM SO TIRED! I stay up wayyy too late every night to watch television not appropriate for the 4 year old's eyes and crochet. I regret it every morning. EVERY.MORNING.
Complaint done.
I stumbled across these little cucumbers at our local produce stand. I figured they were for pickling, but the lady working there said they were good for salads. I bought a few bunches and used them in the salad below.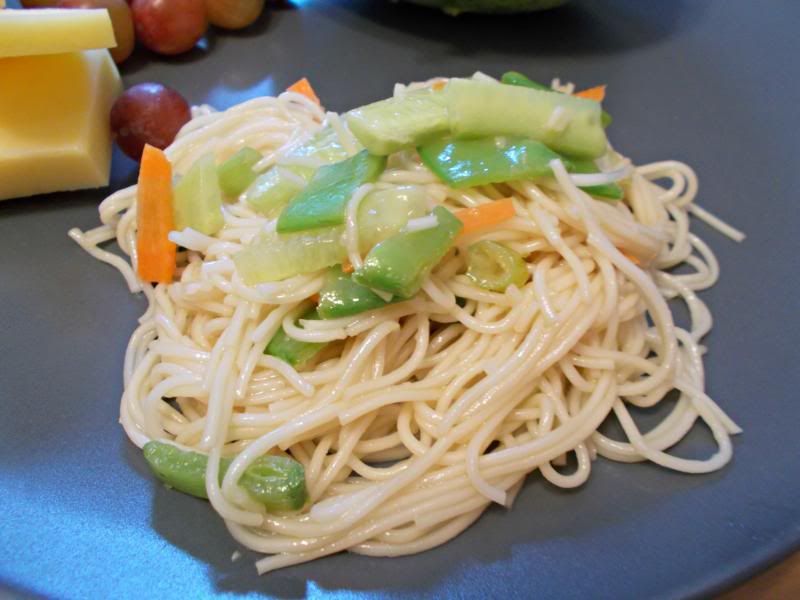 Snow Pea Cold Noodle Salad
2 cups snow peas, cut diagonally into strips
Salt
12 ozs soba/buckwheat noodles
2 scallions, white and green parts diced
1 medium carrot, shredded
1/2 cup thin matchstick cut cucumbers
Dressing:
2 teaspoons toasted sesame oil
1/3 cup rice vinegar
1/4 cup olive oil
3 tablespoons soy sauce
1 garlic clove, grated
Bring 4 cups of water to boil and salt.
Boil snow peas for 1 minute and immediately plunge into ice water using a slotted spoon. Place soba noodles in boiling water and cook according to package directions. Drain and rinse with cold water. Pour snow peas over top.
Meanwhile, combine dressing ingredients.
Toss rest of veggies, noodles and dressing ingredients together and chill for about an hour.
Dig in!