We have had a RAINY day today. Cooper and I went to Wal-Mart and had to wait out the storm for 45 minutes after we checked out. Luckily, the Garden Center has a nice covered area with patio furniture displayed. We waited it out there with about 5 other people before just making a run for it only to be greeted by ankle deep water by our car! Cooper was not amused.
Anyway....
Look at this pretty flower:
Last year, my sweet Meme gave me a hibiscus for Mother's Day. It bloomed a few times and hasn't bloomed since...getting close to a year without blooms. It remained green but didn't really grow. I had pretty much given up, BUT a few days ago I was greeted by this beauty! A few more have bloomed since and there are more buds waiting in line. So happy!
And now my cute boys....
I like making these comparisons.....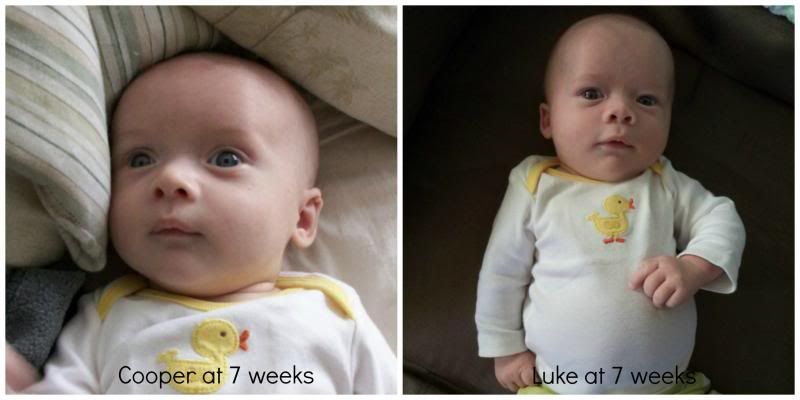 How cute they are!
OK, dinner bell is ringing.
Another quesadilla! This was a big hit with everyone and I am sure it's going to go into regular rotation!
Vegetarian BBQ Riblet Quesadillas
1 box Morning Star Farm's BBQ Riblets
Four 9-Inch flour tortillas
Fiesta or Mexican blend cheese
1/2 cup frozen corn kernels, thawed
Sour Cream
Heat riblets in microwave according to packaged directions. When cool enough to handle, cut into chunks.
To assemble the quesadillas, layer cheese, about a heaping tablespoon of corn, riblets and more cheese on half of the tortillas. Fold in half a place in a hot skillet over medium-high sprayed with cooking spray. Brown side and flip to brown the other. Repeat with the rest of the tortillas.
Cut in half and serve with sour cream.
Dig in!