Yawn....
You forget how tired you are with a new baby. My baby doesn't like to sleep in his bassinet, he prefers his bouncy chair, in the livingroom. He doesn't like sleeping in our bedroom for more than 15 minute spurts. SO I stay with him in the livingroom, attempting to doze on the couch until Kevin takes over at 4 AM. I only get to spend about 2 hours a day in our bed...I miss our bed.
Last night was one of those nights where I didn't settle into sleep well. Cooper woke up with a bad dream and after that every noise in the house woke me up. Ug...hopefully we get a nap this afternoon!
Onto the food....I wish I had some of this for breakfast....
This is one of those crazy combinations of ingredients that sounds intriguing but you have no idea how it will work out.....but it works out well, very very well. So you eat way too much and feel bad about that decision for the rest of the night. Anyway, too much information? :)
It's a combination of Mexican flavors with Italian flares...
My mother in law actually saw this recipe in a magazine and made it. She altered it by leaving out sausage and adding more eggplant. It was SO GOOD.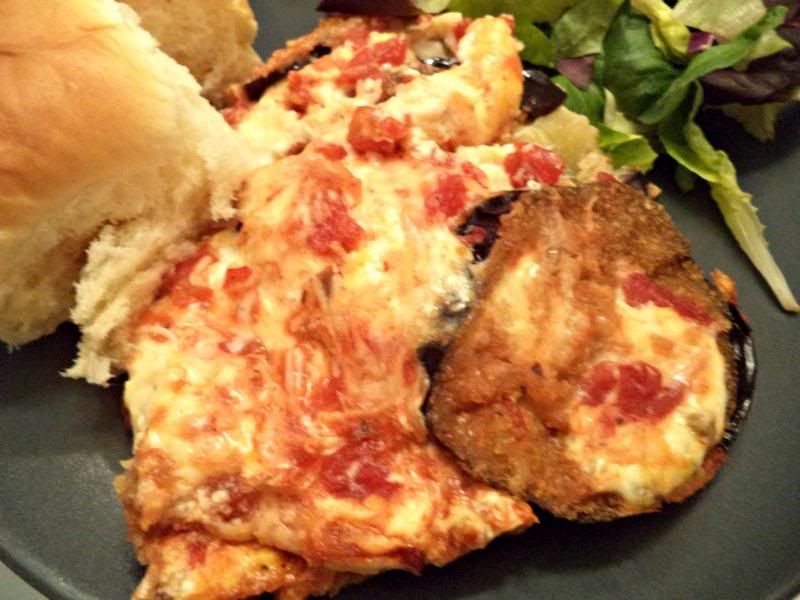 Enchilada Eggplant Casserole
2 packs (32 ounces total) frozen fully cooked breaded eggplant slices
1 can (14.5 ounces) diced tomatoes and jalapenos
1 can enchilada sauce
1 pack shredded Mexican cheese (8 ounces)
2 cups ricotta cheese
Baked eggplant according to package directions.
Preheat oven to 375.
Coat lasagna style pan (13x9) with cooking spray.
In a pot, combine tomatoes in their juices and enchilada sauce, over medium heat, and bring to a boil. Reduce and cook stirring occasionally, until slightly thickened.
Combine 1 1/2 cups shredded cheese with the ricotta.
Pour 1/2 cup sauce mixture over bottom of baking dish. Top with 1/3 of eggplant slices, spread 1/2 of cheese mixture and pour 1/3 of sauce mixture over top. Add 1/3 of eggplant slices, rest of cheese mixture and 1/3 of sauce. Top with rest of eggplant, sauce and rest of shredded cheese.
Bake for 25 to 30 minutes until bubbly and cheese is melted. Let stand 5 minutes before serving.
Dig in!