When we lived in Tampa, I fell in love with Boston Market sides....not the chicken, just the sides. One of my favs was their squash casserole. Recently, I bought a copy of a recipe book with a ton of restaurant copycat recipes. The squash casserole was included....and now I'm sharing it with you. It's DELICIOUS. I altered the recipe slightly to work with what I had on hand.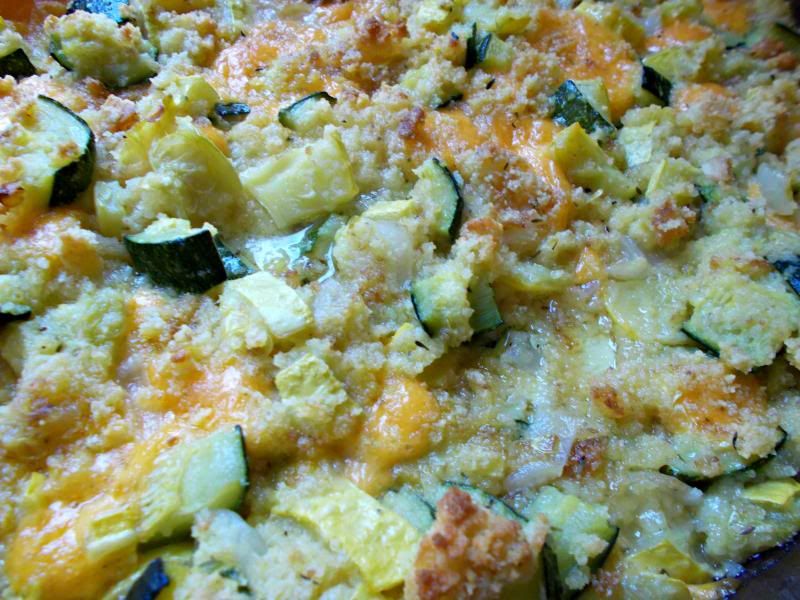 Boston Market Copycat Squash Casserole
1 box Jiffy corn muffin mix
4 1/2 cups diced zucchini
4 1/2 cups diced yellow squash
1 cup chopped yellow onions
1 1/2 sticks butter (12 tablespoons)
1 teaspoon salt
1/2 teaspoon pepper
1/2 teaspoon diced dried thyme leaves
1 cup chicken broth
1 teaspoon minced garlic
8 ounces cheddar, diced
Prepare cornbread according to package direction, set aside to cool.
Preheat oven to 350. Grease 13x11 glass casserole dish with cooking spray.
Place zucchini and squash in a large pot with enough water to cover. Bring to a boil and reduce to medium-low and cook until tender. Drain.
Meanwhile, melt butter in a skillet over medium and saute onions until tender. Add salt, pepper, and thyme. Add garlic and saute another minute. Add drained squash and diced cheese, stir. Crumble prepared cornbread over mixture and chicken broth. Mix well.
Spoon mixture into prepared casserole dish. Cover the dish with foil and bake for 50 to 60 minutes until golden brown. Remove cover for the last 20 minutes.
Cool for 5 before serving.
Dig in!