I don't think I ever shared the story of our broken camera...
On Cooper's last day of school, the parents were invited for a little party and I was SO EXCITED to see my boy at school. I was happily taking pictures and video of our sweet boy with his teachers and friends, and bam...I dropped the camera on the floor, lens out, jammed. We just JUST got the camera 3 days before I had Luke. I was SO upset. We are going to get a new one, but with plumbing work and just life in general, we just can't go buy a random camera because it's Tuesday, know what I mean?
AND we don't have fancy smart phones, just very basic can't even send a picture message phones.
That's why I have been posting a little less, I have a bunch of recipes archived that I pull from to blog at least once a week, until I can start taking pictures of food again. I haven't even really tried new recipes and ideas because I can't blog them.
My mom is bringing me her camera to use this weekend, so I will be able to get by with it for now. Sigh.
Not that the camera took a beautiful pic of the beans below...but they were yummy, and easy....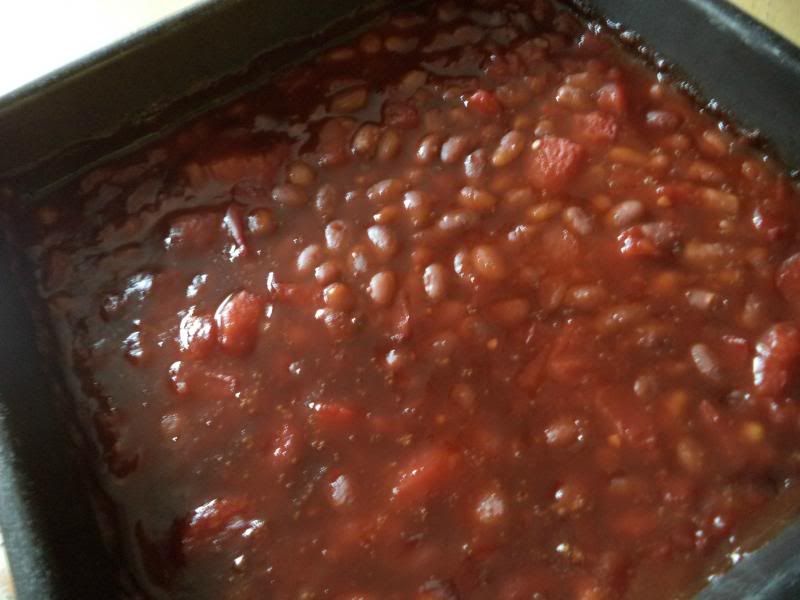 Tomato Baked Beans
1 (28 oz) can vegetarian baked beans
1 (14.5 oz) can diced tomatoes
1/4 cup molasses
1/2 teaspoon Worcestershire sauce
Preheat oven to 425. Lightly spray a 2 quart baking dish with cooking spray. Combine all ingredients and pour into baking dish. Bake at 425 for 25 to 30 minutes, until edges are bubbly.