I have always been a big fan of the homemade taco salad. We had Old El Paso Tacos on a regular basis in y childhood. I always crumbled mine to make a salad...
It's hard to find a good replacement for real ground beef in a taco salad. I am not a big fan of TVP (texturized vegetable protein), even though it's the easiest to use and comes frozen already crumbled for about 4 bucks. Our current fav beef substitute is the Quorn brand crumbles. Quorn is made with fungus, like mushrooms. Sounds gross, but it's magically delicious. They're fake chicken is the closest I've ever come to chicken without actually eating chicken.
Anyway. Lentils are another good substitute for beef in tacoy things. Good for you. Filling. Easy to cook.
Like the recipe below....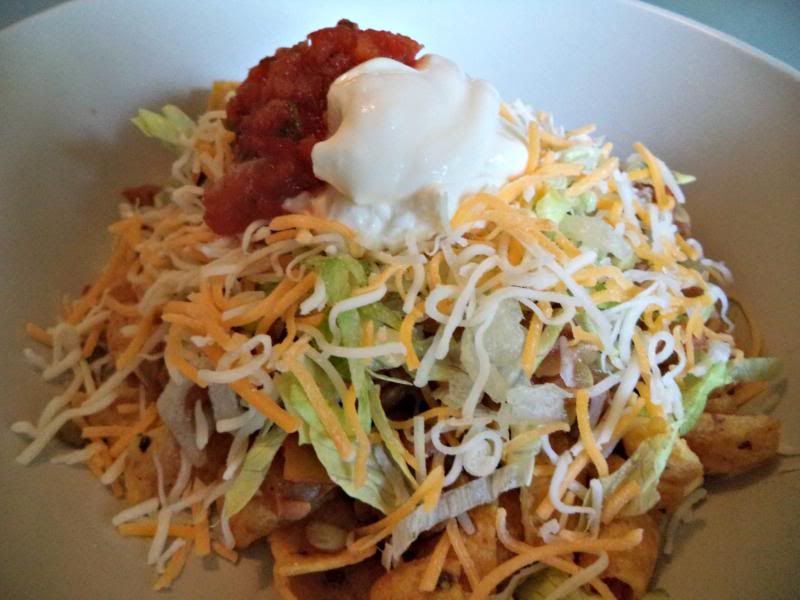 Lentil Frito Taco Pie
1 cup brown lentils, rinsed and picked over
2 cups salsa
1 pack taco seasoning
Corn chips
Taco toppings (lettuce, tomato, more salsa, sour cream, cheese, olives etc)
Place lentils in a saucepan with 2 to 3 cups of water. Bring to a boil, reduce to simmer and simmer, covered, 25-35 minutes, until tender. Drain and return to pan.
Stir in salsa and taco seasoning. Simmer 5 minutes to heat through.
Serve lentils over corn chips and topped with taco toppings.
Dig in!