Our post is brought to you today by....
A party baby that's been up since 2 AM and it's now 10:30!
And MOUNTAIN DEW! The soda for sleep deprived mothers everywhere....
I really hate how much soda I am ingesting lately. I don't drink just Dew, don't worry. I also drink Cherry Coke Zero and regular Coke. I am giving myself until April and then cutting back....wayyyyy back. Hopefully baby sleeps better by then!
So now it's time for Sweet and Sour Broccoli Ramen Salad!!
It was simple, easy, pretty healthy and good. We had ours with black eyed peas and yellow rice.
Enjoy!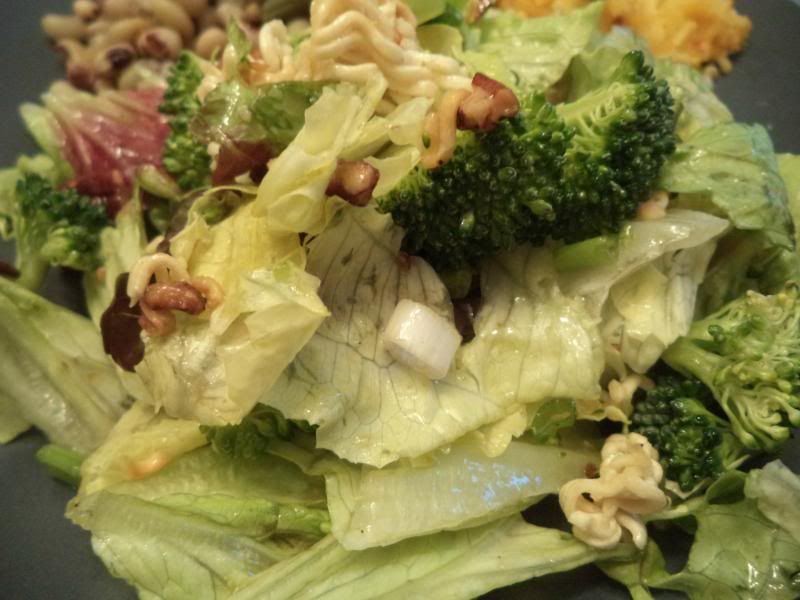 Sweet and Sour Broccoli Ramen Salad
1 pack ramen noodles
1 tablespoon olive oil
1/2 cup chopped pecans
2 cups fresh broccoli florets, chopped slightly
1 head romaine or red lettuce, torn
3 to 4 green onions, chopped
1/4 cup canola oil
2 tablespoons sugar
1/8 cup white wine vinegar
1 tablespoon soy sauce
dash of salt and pepper
Heat oil in a skillet over medium, crush ramen noodles into pan and add pecans. Toast until noodles are browning. Remove from skillet and cool.
Meanwhile, combine canola oil, sugar, vinegar, soy sauce, salt and pepper.
Toss all ingredients in a large bowl.
Serve immediately.
Dig in!