Long time no post, I know..I know. Slacker. After about a million attempts at trying to find a new and awesome recipe to put up, I finally succeeded! Ever have a string of boo-boos in the kitchen? That's me lately. I forget to turn on the crockpot, only to discover it HOURS later, when I am ready to eat what's in the crockpot and it's no where near done...OR..I attempt to broil something, only to realize my oven doesn't have a broiler element...sigh.
WELL....there was definitely success with this delicious little dish below. I had a girl's lunch a few weeks ago and made awesome
broccoli pot pies
from
Oh My Veggies!
. It called for a puff pastry sheet, and only used one. Kevin isn't a fan of broccoli, so I needed to think of something else to do with the remaining sheet..besides apple turnovers. I can't even remember what else I made for dinner that night, but felt we needed a 'bread'. That's when inspiration struck! It was delicious, it was magic, it was all gone before we knew it....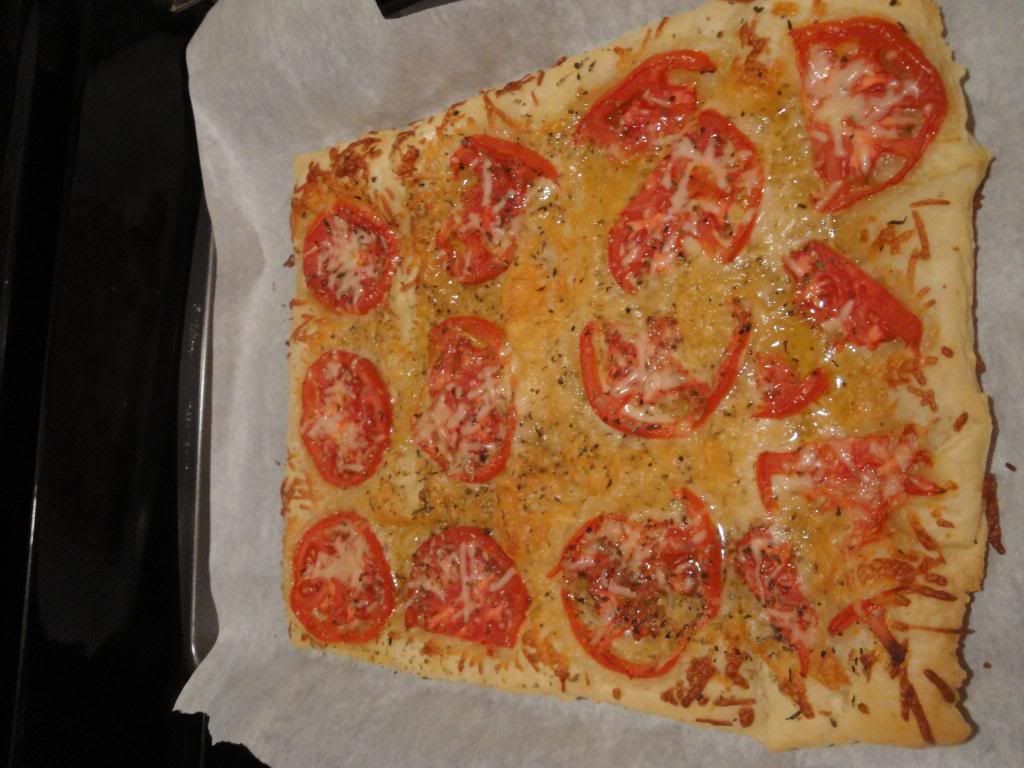 Italian Puff Pastry Tart
1 sheet of puff pastry, thawed if frozen
Olive oil for drizzling
Grated Parmesan
Extra-thin slices of tomato
Italian Seasoning
Preheat oven to 425.
Lay out sheet of puff pastry onto a parchment-lined baking sheet. Press together any cracks to reseal. Sprinkle puff pastry with a handful of parmesan. Lay slices of tomatoes in rows to top of cheese and top with another handful of so of cheese. Drizzle with olive oil (a little bit goes a long way!) and sprinkle with Italian seasoning.
Bake for 20 to 25 minutes or until puff pastry is browned and cheese is melted. Start checking after 15 minutes.
Slice into squares and Dig in!!