It's been 2 weeks since Thanksgiving. I made a couple of recipes I wanted to share, but was trying to decide on posting them now in the off season, or sharing them next year BEFORE Thanksgiving. I guess they could be made for Christmas...but anyway. I decided to go ahead and share one of them today and another one sometime in the next few days while it's all still fresh in my typically mushy mind.
(I'm sitting here watching an Ninja infomercial and wanting to go out and buy one)
Hope everyone had a good Thanksgiving by the way. We did. It was hectic. Thanksgiving day at my Dad and Step-mom's. A full house at around 18 guests. There was so much dessert we call could have sat down with our own individual pies I think.
Part of the desserts and turkey...
I went Black Friday shopping that night with my friend and to my Grandma's on Friday for 2nd Thanksgiving. I was pretty exhausted by Friday night.
The recipe I am sharing with you today was HUGE hit. I can't take credit for the recipe myself. Our local grocery chain, Publix, has a program called Aprons. They do cooking demos in store and pass our recipes. I was wondering around aimlessly one night trying to figure out what to pick up for dinner and the smell of pumpkin pulled me in...these little delicious guys were baking and lucky me got to try a sample.
My brother chased me to the car to get a few more before we went home, had more at my grandma's the next day and asked for more at our house Saturday night.
I hope you enjoy them as much as we did! AND they are SUPER easy, bonus!
Pumpkin Cookie Bites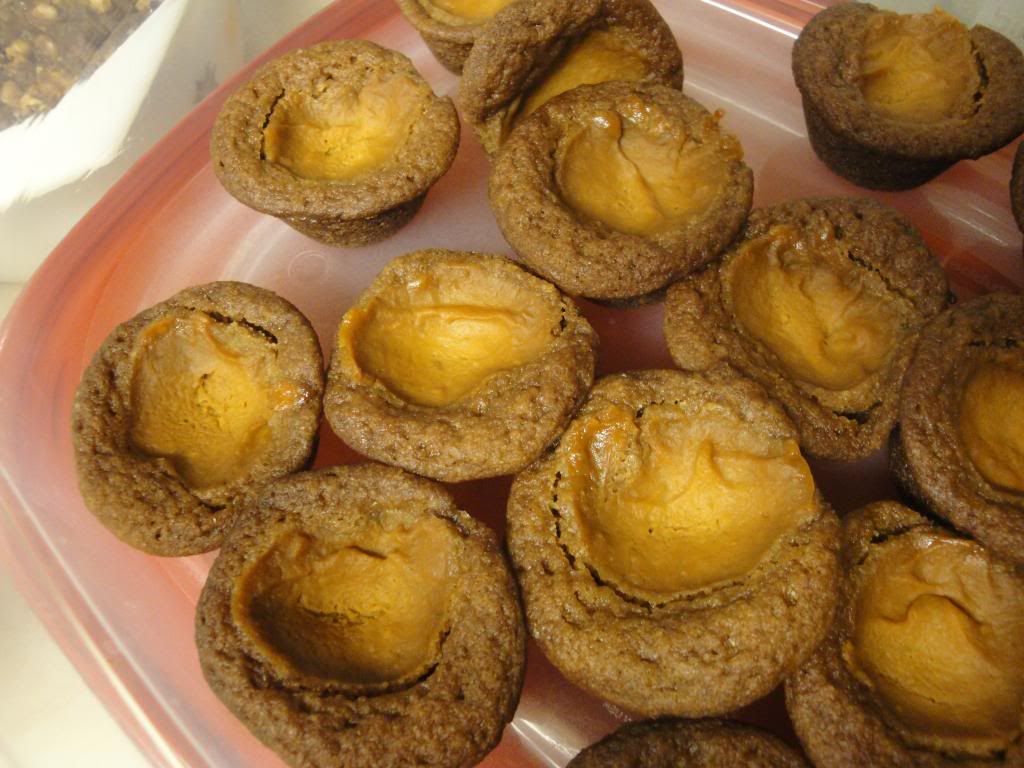 Start with 2 packages of 24 count premade refrigerated cookie dough squares break apart things. Technical terms, I know. I used the Immaculate brand Gingerbread and Sugar cookie variety. I try to use Immaculate brand baking products as often as possible. They are convenient and don't have all of the crap in them like the other brands. When living in Tampa, we had a larger variety at the grocery stores. We don't have as many options in a smaller city now, but I am slowly seeing their brand pop up in stores.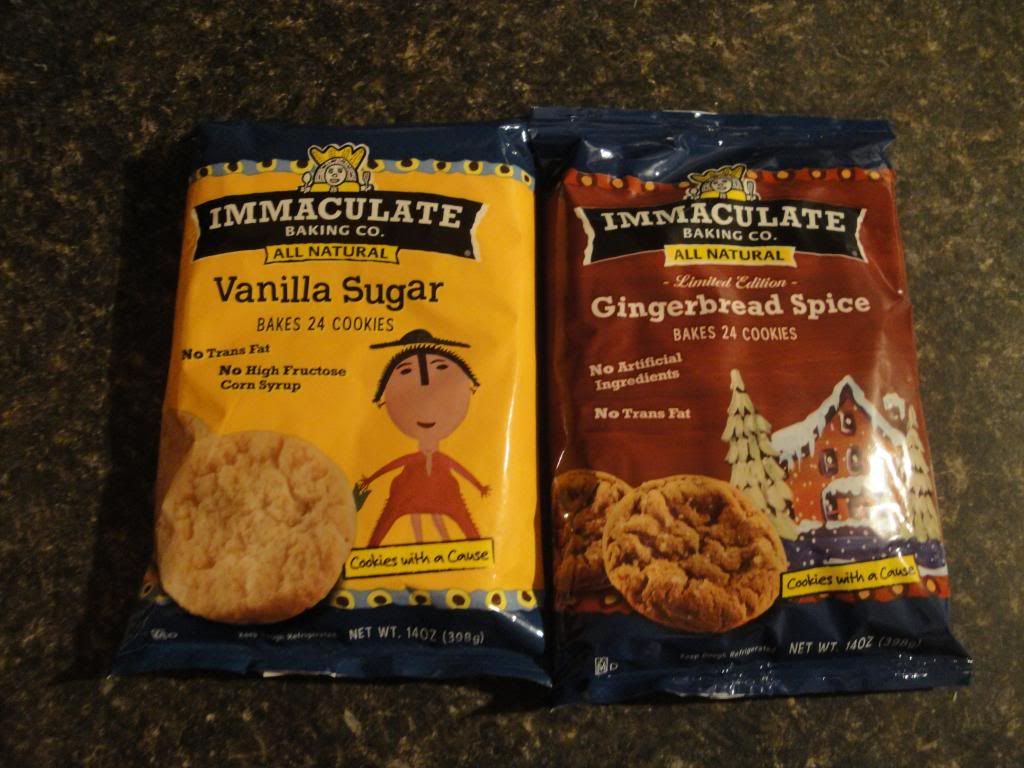 Anyway...take them out of the fridge while preheating the oven and mixing everything else together to soften up a bit. BUT only take 1 pack out at a time if you only have 1 mini muffin pan to work with.
Meanwhile, mix together egg, pumpkin and dulce de leche caramel. I found this in the International food isle with the Mexican foods.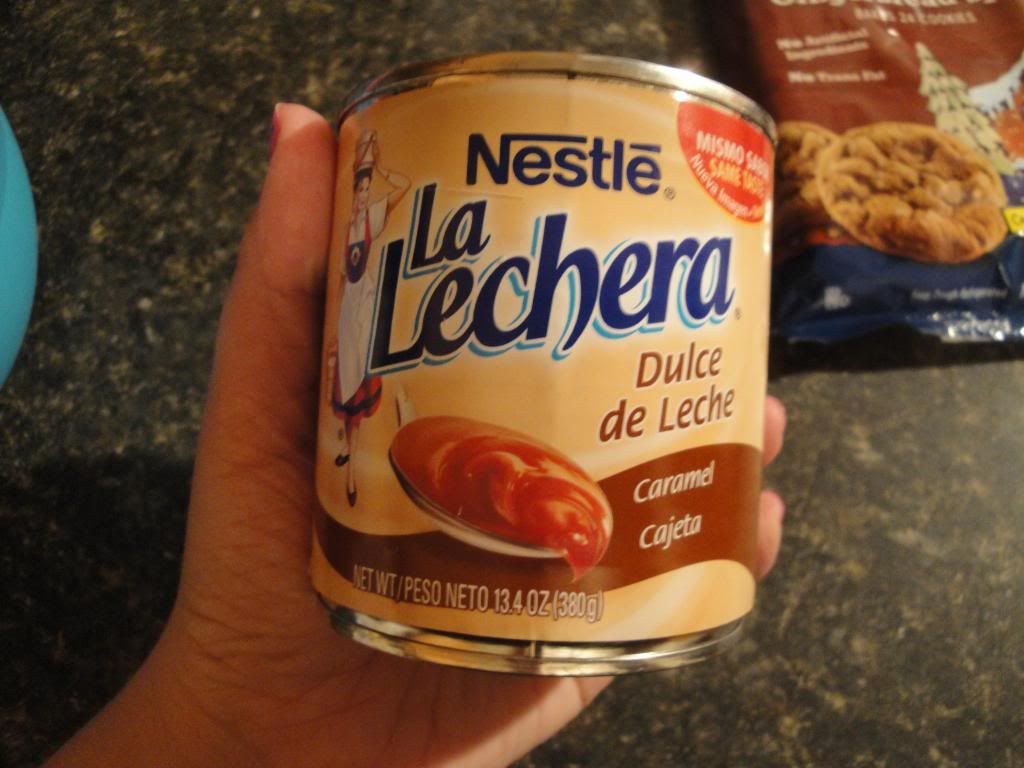 Press dough into greased mini-muffin pan to form little cups.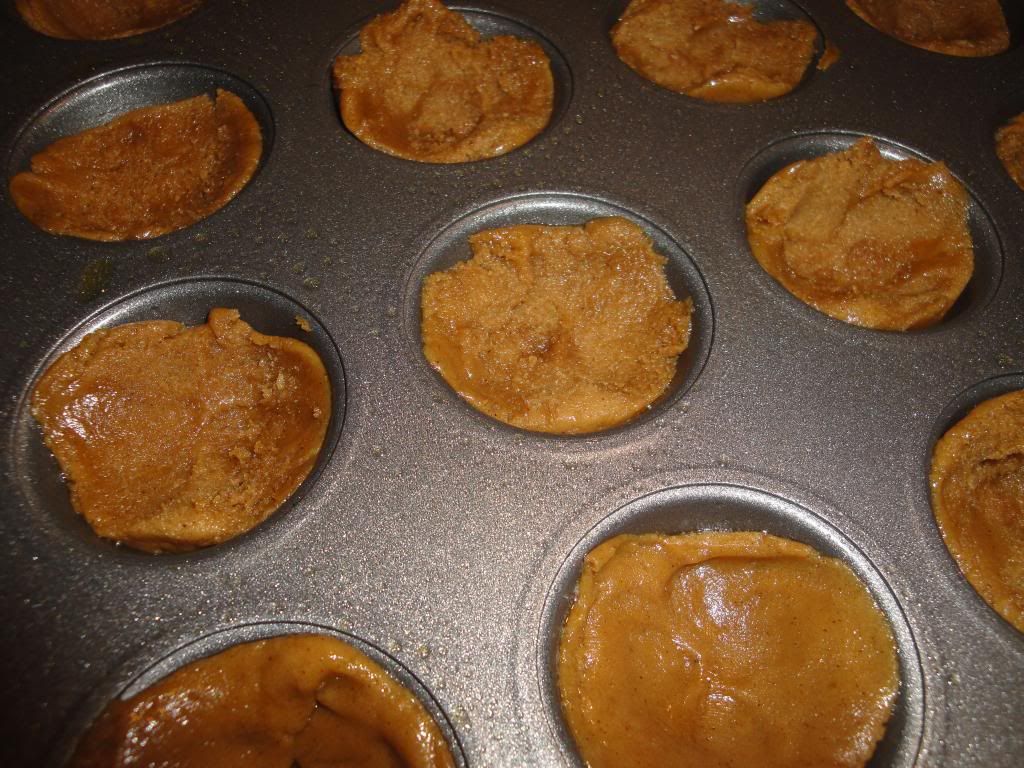 Fill and bake! Let cook a bit and pop out with a spoon to cool completely on a cooling rack before storing.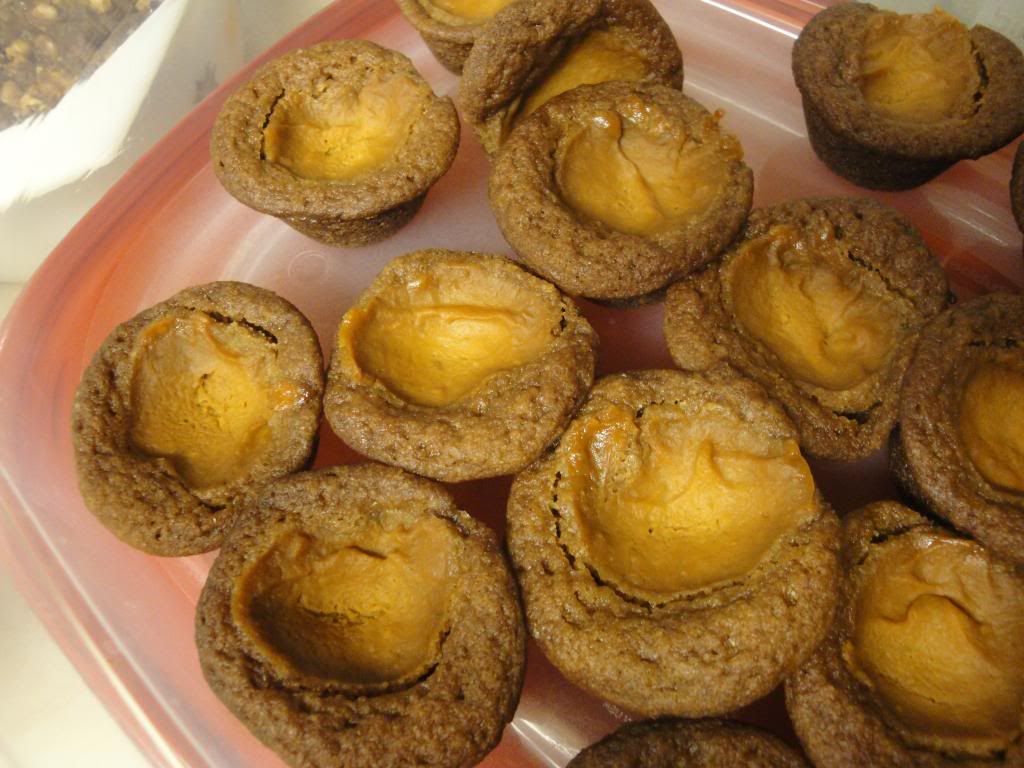 Pumpkin Cookie Bites
1 egg
1 cup canned (not pumpkin pie spiced) pumpkin
2/3 cup dulce de leche caramel
2 (24-count) packages refrigerated cookie dough (gingerbread or sugar are preferred), softened
Preheat oven to 375. Spray mini-muffin pan with cooking spray.
Whisk egg until blended. Stir in caramel and pumpkin until evenly blended.
Separate and press dough into muffin pan to form cups. Fill each cup with about a teaspoon full of pumpkin mixture. Bake for 25 minutes until crust is golden. Cool for 10ish minutes in pan and pop out with spoon to cool on cooling rack completely.
Dig in!