I signed up for my 2nd subscription box this month. Along with Goodies Box...I now get
Conscious Box
. The reason I signed up for this was because I found a discount code online to get it for $9.95 a month versus the normal $19.95. I ALSO won a sweepstakes on another blog for 3 free months and decided to use it toward trying out the Vegan box as well.
Conscious Box is a subscription box that contains more all natural products, organic products and environmentally friendly products. We are trying to stick to those items in our lives as much as possible so I thought this box would be a fun way to try new products!
The boxes were smaller than the Goodies box I've received before but they were crammed packed full of items.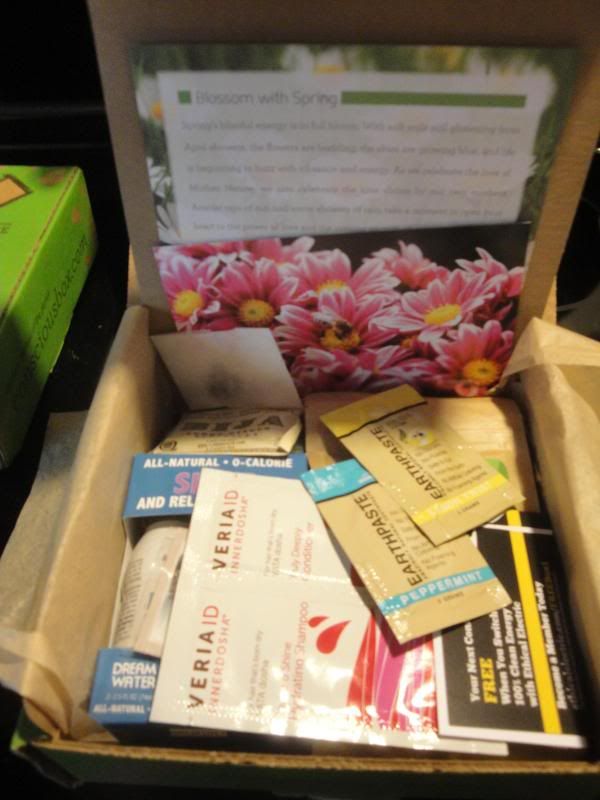 First up is the Vegan box...
It came with:
2 shots of Dream and Relaxation water. The first thing I thought of when I saw these were they were the opposite of 5 hour energy. I haven't tried them yet...but do look forward to trying them on a restless no sleep night. It also came with a coupon for BOGO if I decide to purchase them.
Pack of Happy Hemp seeds. They're toasted and GMO free.
A sample of VeirID Revive and Shine Hydrating Shampoo and Conditioner. It's the pretty pink pack in the lower middle.
2 Ecover dishwasher tabs. I've used these before and liked them. I will save them for the time we have a functioning dishwasher in our lives....
A teeny-tiny sample of dark chocolate...bitter, bitter dark chocolate...I spit it out.
2 sample packs of Earthpaste All Natural Toothpaste. One in peppermint and the other lemon twist. Peppermint is something I'm used to, but we'll see how I feel about the lemon....
A pack of Ultima Replinsher, a zero sugar zero calorie all natural balanced electrolyte powder to add to water. It's lemonade and GMO free...
The most 'interesting' item in the box was a pack of Pollen Ranch's Fennel Pollen. I am NOT a fan of fennel and the box reeked of fennel. I also found it interesting that the recipe that came with the pollen was for a pork loin...and this was the vegan box. (now my hand stinks of fennel because I touched the pack)
2 business cards. One offering a free conscious box if I sign up to become a member of a clean energy something or another and the other for 15% off an order at Mac N Mo's Morselicious Treats!
A Graw Bar...Raw Sprouted Energy. Looks good...plan on eating it for breakfast.
A pretty postcard.
A sample and coupon for Herbamare sea salt seasoned with herbs. I like the idea of this...
Sample of YES! soothing all natural sunscreen. I've seen Yes! products in Target and always wondered if I'd like them, so now we'll find out...
Sample of Sukibody Butter Cream salve. Organic lavender and organic cocoa butter. Yum.
1 BIJA lemon ginger echinacea tea bag. I try to drink hot tea...but I'm not good at it...and it reeks of fennel now..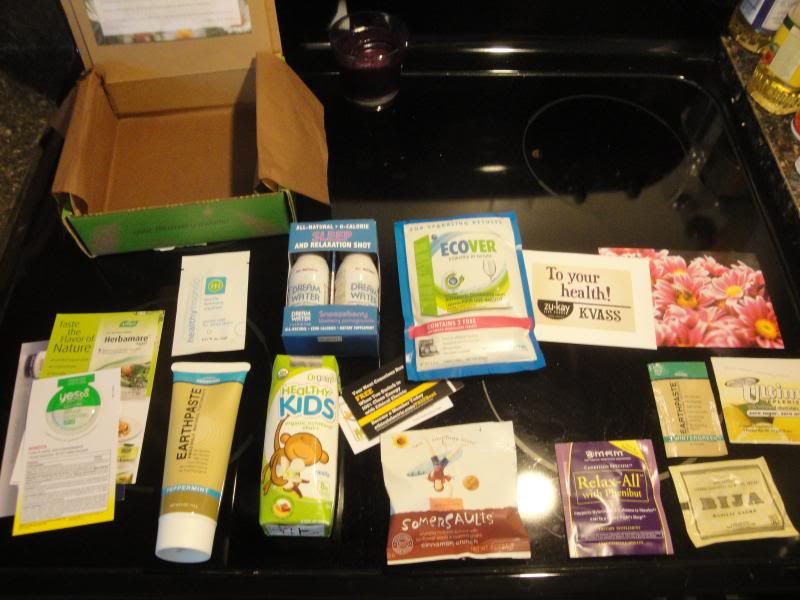 Now onto the regular box..
It also came with the Relaxation shots, BIJA tea, sea salt, dishwasher tabs, postcard, sunscreen, and Ultima Replinsher.
But it also came with...
A healthy kids organic nutritional drink. We'll see how Coop likes this...
An Earthpaste sample in Wintergreen and a full-sized tube in peppermint.
A sample of Relax-All pills for a better nights sleep.
Sample pack of Somersaults - Crunchy nuggets baked with sunflower seeds and toasted grains. Sound yummy!
Coupons for a couple different products.
And...a sample of Healthy Hoohoo...gentle feminine cleanser..interesting.
It was exciting getting the boxes. I will keep getting the free box for 2 more months and will keep paying for the discounted box for at least 2 more months. I don't feel like it was worth the normal 20 buck price tag. I am also cheap...
Do you get any subscription boxes?