I know I have been a little absent lately, I am sorry.
I started a local all-natural co-op and that's been my computer time lately. Also, I am trying to 'get my life back together' in areas like cleaning and organizing, the house has been a bit 'tumbled' since early pregnancy with Luke. I also haven't been cooking as much, just hasn't been my focus lately! I have a ton of ideas I want to try out though, so I will be posting more!
This is one of my favorite ways to eat rice, and you'll love it too!
This cold rice salad makes an excellent side or a main dish served in an avocado like we did. I think it would even be good served inside of a roasted red pepper.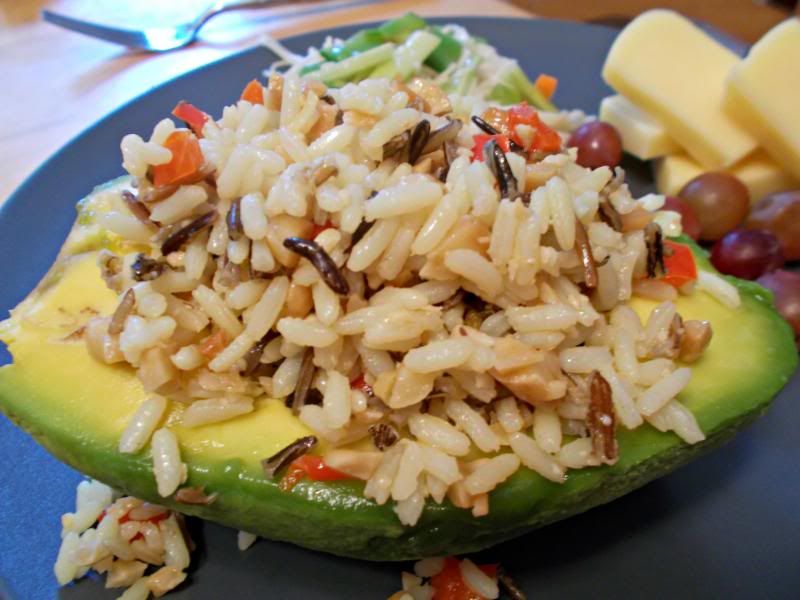 Wild Rice Salad with Cashews
1 cup uncooked wild rice, or wild rice blend (we used Uncle Ben's the night I took the picture and just left out the seasoning pack)
4 cups chicken broth
3 tablespoons olive oil
1 1/2 cups chopped red bell pepper
3/4 cup cashews, coarsely chopped
Dressing:
3 tablespoons seasoned rice vinegar or apple cider vinegar
2 tablespoons olive oil
1 tablespoon sesame oil
1 clove garlic, minced
1/4 teaspoon salt
Dash of pepper
Rinse and drain rice in cool water.
In a saucepan, bring rice and broth to a boil over high. Reduce to simmer and cover for 45 to 50 minutes until rice is tender. Drain excess liquid and set rice aside.
In a medium skillet, heat 3 tablespoons oil over medium high. Add peppers and cook 3 to 5 until tender. Add cashews. Cook for 2 to 3 more until nuts begin to brown. Remove from heat. In a large bowl, mix together rice and peppers.
Combine dressing ingredients in a jar with a tight fitting lid. Shake well. Pour over salad and toss to coat. Cover and chill for at least 2 hours before serving.
Dig in!