What? A new post? YEP!
I am feeling better most days now...baby is giving mommy a bit of a rest.
I've been in the mood to cook real meals...and not just something frozen. We are sitting as a family at the table again, I didn't realize how much I missed that! Cooper has started getting stubborn with his eating and I am convinced it's because we haven't been sitting at the table. We'll see how he starts doing now.
The first recipe I tried that was blog worthy was this Greek-style stew. It was good and very good for us! It's also super quick, 10-15 minutes. We had ours over plain couscous but it could be served over rice or orzo.
Anyway...hope you enjoy it!
And yes...it's in a paper bowl...I didn't think about that until after we ate. Oh pregnancy brain.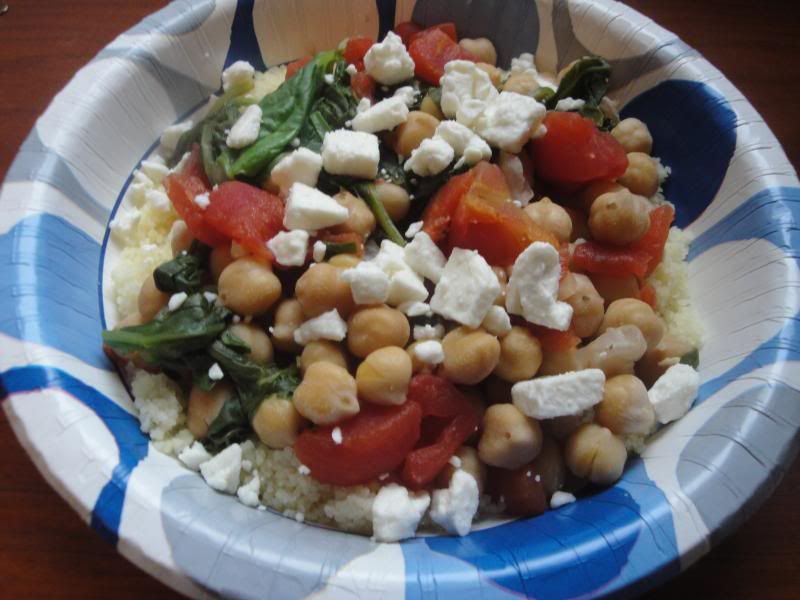 Greek-Style Stew over Couscous
2 cans chickpeas, rinsed and drained
1 can diced tomatoes with onions and garlic
1 cup water
1/8 tsp or more to taste cayenne pepper
1 bag baby fresh baby spinach
2 cups cooked couscous
feta cheese
Combine chickpeas, tomatoes, water and cayenne in a pot and bring to a low boil. Pour bag of spinach over the top and cover to wilt. Stir into mixture and continue to heat until spinach is wilted completely and mixture is hot.
Serve over couscous topped with feta!
Dig in!