Hello 'fall'. The air is slightly cooler and I have been watching The Good Wife almost non-stop for days now. It's my new favorite show.
I currently have Holiday Spice in the wax burner and I am pretending it's 75 degrees outside, instead of the current 84. I cannot wait to open the windows and air out the house. The cat also looks forward to that day, it's as close as I willingly let her get to the outside.
WELL....today I bring you a fun and delicious party food. Or football Sunday food. Or Mommy just really wants to bake some crescent rolls and slap some cream cheese on them.
There are several versions of this floating around the internet. Those versions require you to make a TON of 'pizzas'. This version is enough for a very hungry husband and yourself along with a 3 year old. Or as a dish at a small a get together.
They are versatile, you can switch around the veggies and do different Ranch dip flavors in the cream cheese. I usually stick to traditional Ranch and a combo of carrots, cauliflower and broccoli.
Anyway....here ya go!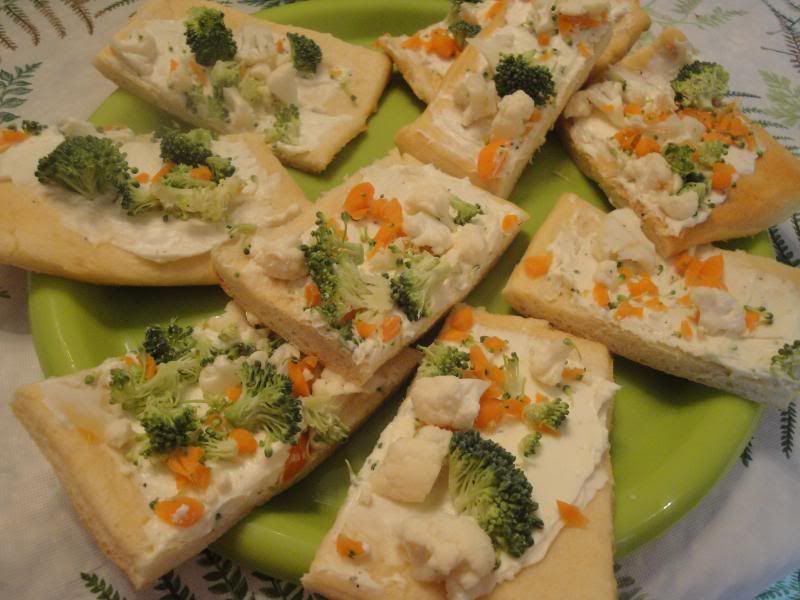 Easy Veggie Pizzas
2 cans refrigerated crescent rolls (I prefer Immaculate brand)
Two 16 oz packs of cream cheese, softened
1 tablespoon of dry Ranch dip mix
2 - 3 cups of veggies or cheese for garnish (broccoli, carrots, cauliflower, and bell peppers all work well), chopped
Preheat oven to 350 and lightly spray a cooking sheet with Pam or other cooking spray.
Unroll crescent rolls and divide into rectangles, do not divide into triangles. Bake for 10 - 15 minutes, checking after 10. They'll be golden brown when ready.
Meanwhile, mix cream cheese and Ranch mix. Using an electric mixer works best.
Cool crescent rectangles for 10 minutes then spread cream cheese mixture liberally over the rectangles. Top with veggies and press slightly to help keep them from falling off when picked up. Cut into smaller pieces, if desired.
Dig in!!