Tonight....I am going to share the recipe for this delicous Blueberry Streusel Cornbread...but first....a recap on the weekend.
We went to our downtown area last night and saw the lights. They do a great display for children to run and play through in a park.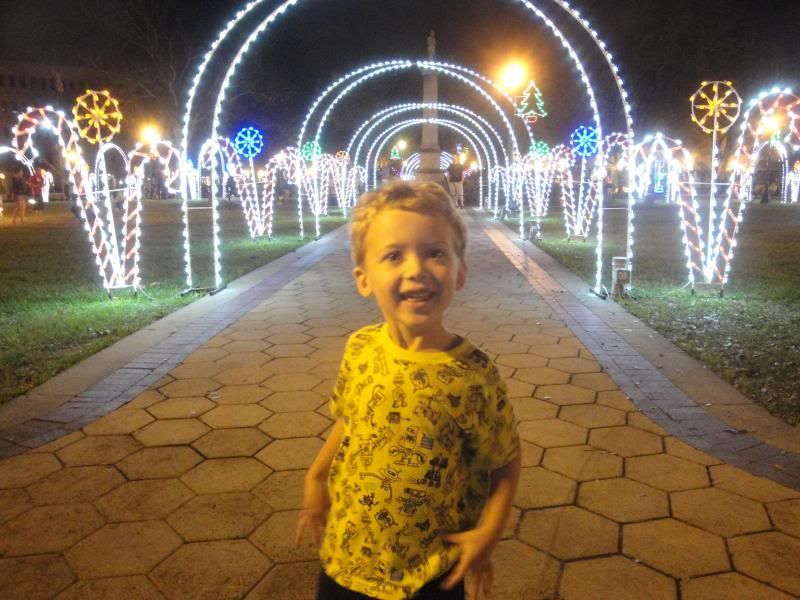 Yes...the rest of the country is freezing and we are here in Central Florida running around in shorts looking at Christmas lights.
We stopped for a dinner outside at Jimmy John's. Cooper ate about 5 bites of a ridiculously large Tuna Sandwich...he felt pretty big holding this.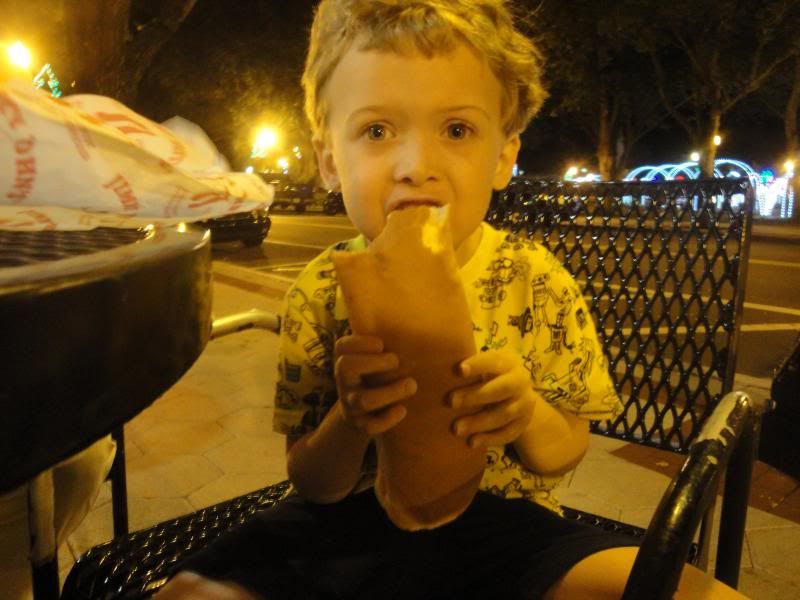 We also got Squeak new tankmate....her name is Pippy. She's very skiddish still, but she'll come around. I opened a can of soda near them this morning and she ran like the world was ending....
OK, so onto the cornbread....
I was flipping through a copy of Fix it and Forget it and Enjoy it....and saw this recipe. I made it go along with the
Cowboy Casserole
from 2 posts ago. WELL....we ate it after because I neglected to look at how long it would take to bake before planning out timing for everything. BUT...it was still really good. It's interesting because while you could eat it as a side dish for dinner, it does have the sweet streusel topping..so it's sort of desserty too. I used frozen blueberries, but you can use fresh or frozen. If you use frozen, make sure they are thawed and drained before mixing them in.
Blueberry Streusel Cornbread
2 packages(envelope sized) cornbread mix
2 eggs
2/3 cup milk
2 tablespoons flour
2 cups fresh or frozen blueberries, thawed and drained if frozen
Streusel Topping:
3 tablespoons butter, softened
3/4 cup sugar
1/2 cup flour
3/4 teaspoon cinnamon
Preheat oven to 350.
Mix corn muffin mix, eggs milk and flour until combined. Fold in blueberries and pour into a greased 9x9 baking pan.
In a small bowl, combine streusel ingredients until mixed into fine crumbs. Use a pastry cutter or fork. Sprinkle over cornbread.
Bake at 350 for 45 to 50 minutes, until a toothpick inserted in the middle comes out clean. Serve warm.
Dig in!