Ah...Christmas is over. Breath a sigh of relief. It was exhausting this year!
Cooper had so much fun, but little ones get too excited to do things like..eat...so they get grumpy. We had our fair share of melt downs during the holiday. Our living room is still littered with Christmas gifts, I am putting off the organizing new toy stuff....
But look at this face....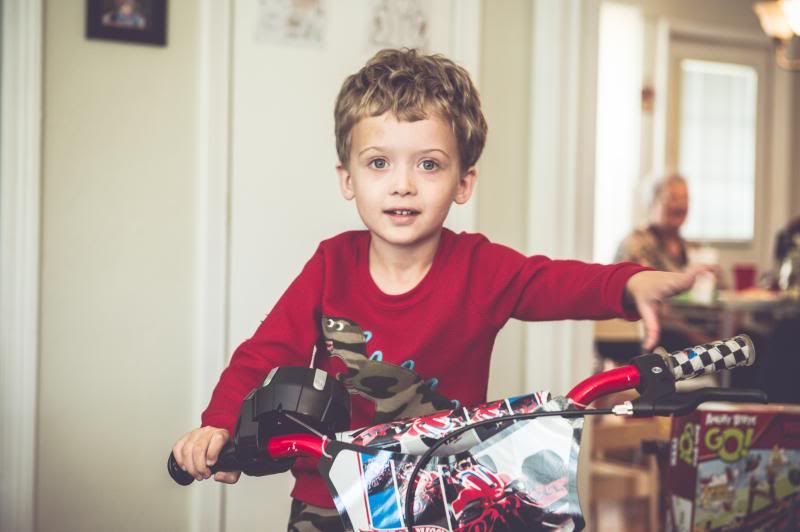 My parents got him a bike.....he loves it. He refuses to wear his helmet so we won't let him ride it outside yet.
We had about 12 people over for Christmas brunch. This year I did all slow cooker recipes, which was SO easy. I woke up at 5AM to get everything going and it worked out great. I was hoping to share all of the recipes with you....but our digital camera died a week before Christmas and we have yet to buy a new one. Kevin's tablet takes pictures, but they didn't turn out too well. We did get one good picture...for the recipe I am sharing below.
We used vegetarian sausage patties and no one knew the difference!
Slow Cooker Savory Breakfast Casserole
6 eggs, beaten
1 pound bulk sausage, browned or 1 box vegetarian sausage patties, thawed and chopped up
1 1/2 cups milk
1 cup shredded cheddar
8 slices bread, torn into pieces or 1/2 a loaf of French bread, torn into pieces
1 teaspoon salt
1/2 teaspoon dry mustard
1 cup shredded mozzarella
Mix all ingredients together except mozzarella, pour into a greased slow cooker.
Sprinkle mozzarella over top.
Cover and cook on high for 2 hours and then 1 hour on low.
Dig in!!!