Ahh...still full from Thanksgiving?
Finally feeling a little hungry over here....
I hope my American friends had a happy Thanksgiving! We did. We celebrated 2 days...Thursday at my Dad's and Friday at my Grandma's. Yum yum....
My dad had an AMAZING garden this year and we left with a bag full of cherry tomatoes, broccoli and bell peppers. I needed to find something to do with all of the peppers so I came up with a fajita casserole that I will share in a post later this week. The casserole required sauteed peppers and onions, which I love to eat...but hate cooking. My mind got all creative remembered how EASY it is to cook onions in the slow cooker, I shared it in another
post
. WELL...I decided to give it a try with peppers and onions, the result was great!
I cooked mine with some fajita seasoning for the casserole, you could do the same for actual fajitas or for the casserole I'll share later. Or leave it out and use them however you like...
This is one of those no exact measurement recipes, you can make as little or as much as you need.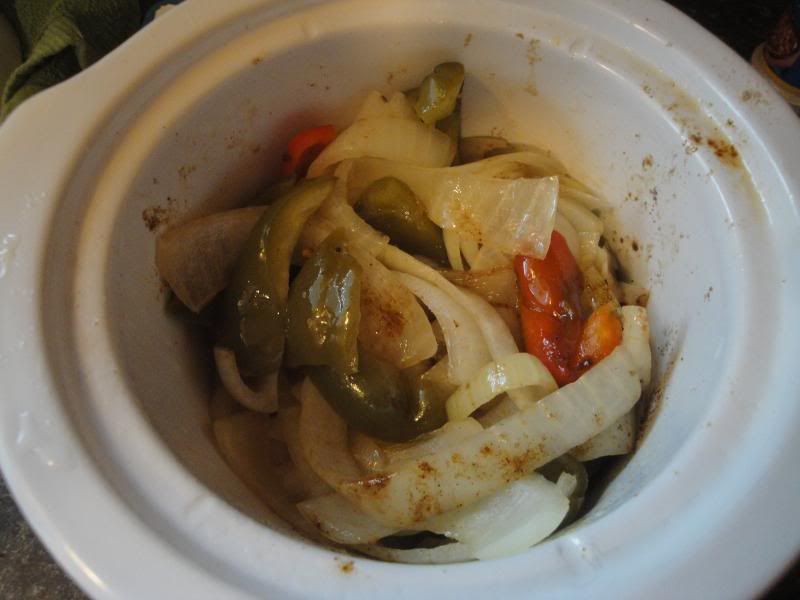 I used my small slow cooker for this one, but it would work in a larger one too.
Cut up your bell peppers and onions into strips and place in the slow cooker. Dot the top with butter and fajita seasoning, if using. Turn on low. Stir every hour to 1 1/2 hour and dot with a little more butter if they star to brown too much around the edges. They take about 3 to 4 hours total.
So easy....easy clean up...yummy stuff.
Dig in!!