My sweet boy got so excited when I mentioned him helping me bake cookies this evening. He loves to help me with things in the kitchen and doesn't understand why he can't help me with 'stove stuff' as we call it. He's usually pretty happy if I say he can when he's 8. At least he has a number then.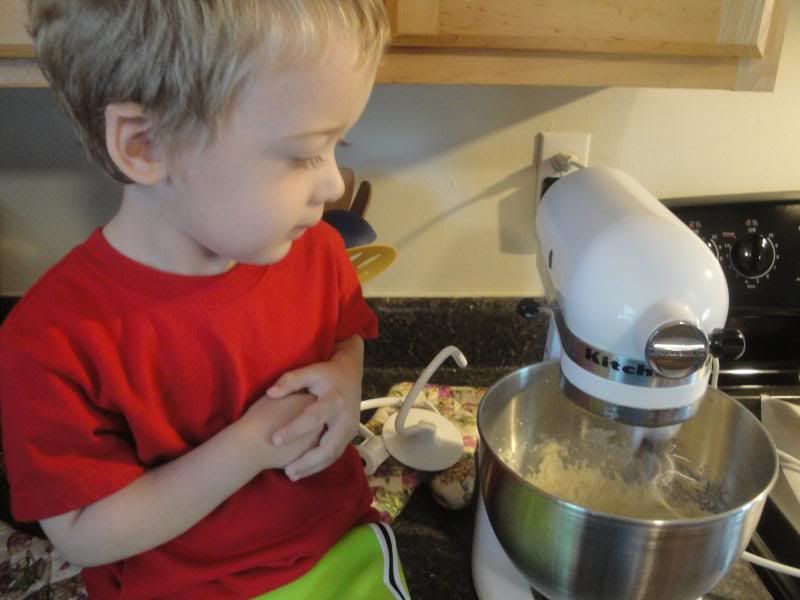 Hopefully he won't remember that I said when he's 8...I should have said 12.
Anyway....TONIGHT....Coop and I veganized a much loved cookie...the snickerdoodle. It was fairly easy. We used Earth Balance instead of butter and applesauce instead of eggs. They came out great. Yum yum yum. I plan on trying many more vegan baking recipes in the future....
Egg-Free Snickerdoodles
2 1/2 cups flour
2 teaspoons baking powder
1/4 teaspoon salt
1 1/2 cups sugar
1/2 cup butter or margarine Earth Balance Vegan whatever
1/3 cup unsweetened applesauce
1/2 teaspoon vanilla extract
1/4 cup sugar
2 tablespoons cinnamon
Preheat oven to 375. I recommend lining your cookie sheet(s) with parchment if you have it.
Whisk together flour, baking powder and salt in a separate large bowl.
Cream butter and sugar. Add in applesauce and vanilla. Mix until well blended.
Add flour mixture in batches and mix well.
In a shallow bowl, combine 1/4 cup sugar and 2 tablespoons cinnamon. Scoop cookie dough (I used a tablespoon sized cookie scoop) and roll into balls. Roll balls in cinnamon sugar mixture and place 2 inches apart on cookie sheet.
Bake 9 to 10 minutes until they have spread and tops have cracked a bit. Cool for a few minutes on cookie sheet then transfer to a cooling rack.
Make around 2 1/2 dozen cookies.
Dig in!!