I am starting a new weekly post theme..Tofu Tuesday. We have started the process to switch to strict vegetarian in our house, not fully vegan...but no dairy or meat. And only eggs when we (finally) get our own hens. Anyway...part of it all is learning how to change your mindset on how you cook. We are so used to using chicken in most meals, and chicken broth in others. Or eggs, butter, milk, etc... So tofu is an easy answer for a lot of things. You can puree it in a smoothie, use it instead of eggs in egg salad....or just grill it, saute it, or bake it. I know some people are turned off by the idea of tofu..but in this recipe, you don't even notice it. Just make the pancakes super hearty.
These were SO good. They are super filling, so watch how quickly you devour them, they swell in the tummy. Coop loved them, Kevin loved them...I loved them. I hope you love them too!!
Stock Pretty Photo...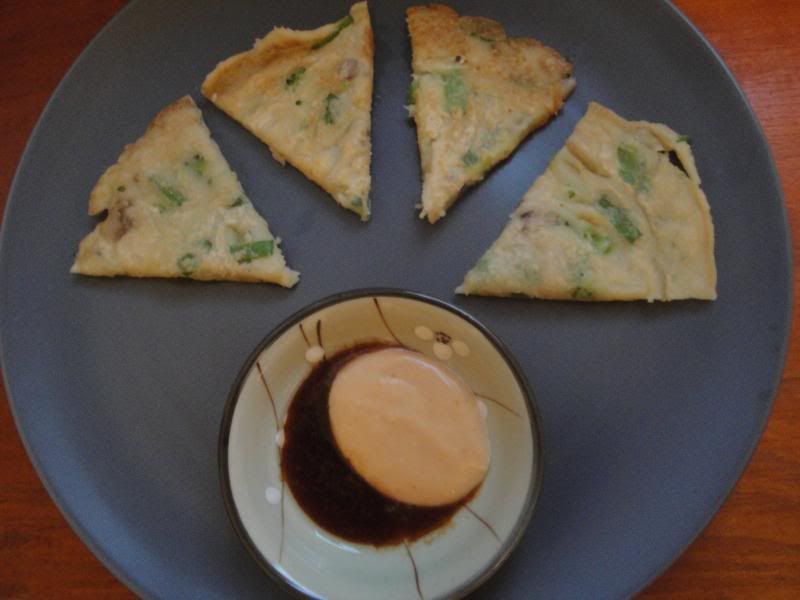 This is how we really set the table...complete with pile of books at one end and a few rice grains left over from lunch on the table...
The fun part of this recipe, is that you can pick and mix any crunchy veggies you want. This time I used a handful of coleslaw mix that included cabbage and carrots, mushrooms, green onions, broccoli and some snowpeas. You just chop/slice them all thinly.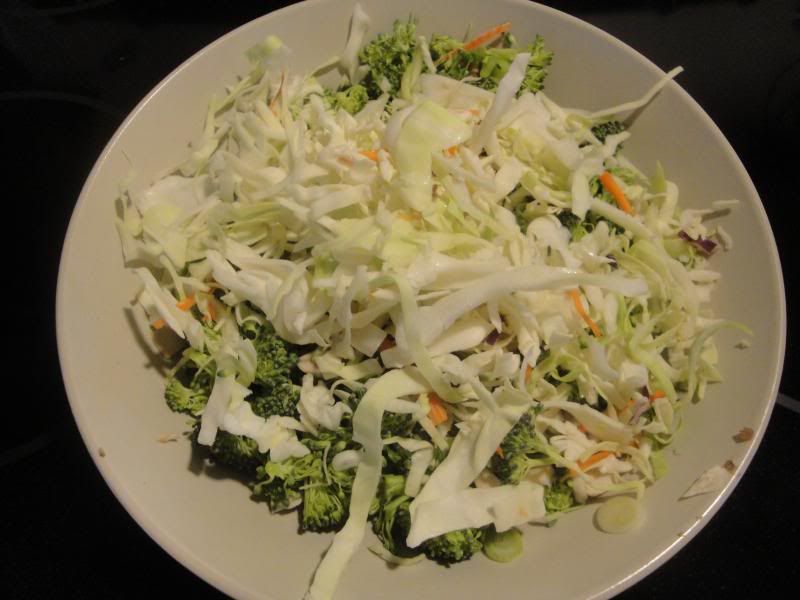 I tried large and small sized pancakes to see how each cooked. The key is to add a spoonful of batter at at a time and spread it out with the back of the spoon. My batter was thick and I ended up adding about a cup more of liquid. They also didn't brown very well, but were still delicious. I am sure the not browning had something to do with the tofu/extra liquid.
I also tried out 2 different dipping sauces...both were very good. One was creamy and the other a more liquidy type.
But anyway, here you go!
Japanese Pancakes with 2 Dipping Sauces
2 cups water or broth
1/4 pound of tofu, about half a block
2 1/2 cups all-purpose flour
1 teaspoon salt
2 teaspoons baking powder
4 to 5 cups thinly sliced crunchy veggies of your choosing (green onions, yellow onions, cabbage, bok choy, broccoli, carrots, etc)
Puree water/broth and tofu in the food processor or blender until smooth. Mix flour, salt and baking soda together in a large bowl. Pour in tofu mixture and mix until combined. Add in veggies. Mix.
Heat a little olive oil over medium in a large skillet. (or use pan spray like I did)
Cook pancakes until lightly browned on both sides. Transfer to plate and cut into wedges for serving.
Creamy Dipping Sauce
1/2 cup vegan mayo
1 tablespoon soy sauce
1 tablespoon maple syrup
Splash of sriracha to taste
1 teaspoon sesame oil
Whisk it all together in a bowl
Sesame Dipping Sauce
3 tablespoons soy sauce
1 garlic clove, minced
1 teaspoon dark sesame oil
1 teaspoon apple cider vinegar
1 dash sriracha
Pinch of sugar
Whisk it all together in a bowl.
Dig in!!