It's raining, It's pouring....
Love the sound of rain.
I've been re-watching the entire series of Lost. I get obsessed with a series and have to watch it all as soon as I can! Before this it was Weeds. I re-watch Doctor Who every 6 months or so. I don't know what I'll watch after I finish Lost.
SO...for this obsessed with Lost while listening to the rain night....I share a recipe with you.
Southern Hospitality Fried Rice. Something different, uses things from the south like black-eyed peas and Crystal hot sauce. It could be southerned up a little more with some shredded collard greens..
I like the idea of playing around with fried rices. Something untraditional. I am thinking of trying a Santa Fe style rice next...
It's super easy. Just precook some brown rice or used leftovers. Open up a can of black-eyed peas, use frozen or again, leftovers. Canned tomatoes work great, but you could use fresh diced.
Anyway, I hope you enjoy it!
PS...rice was in my great-grandmother's China bowl....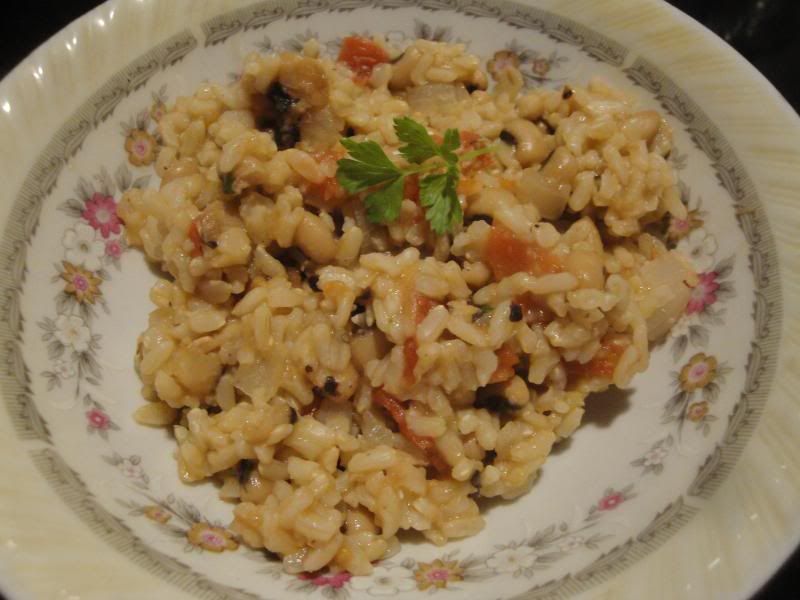 Southern Hospitality Fried Rice
1-2 tablespoons olive oil
1 medium or 1/2 of a large Vidalia onion, or other sweet onion, diced
5 cups cooked brown rice
14 oz can diced tomatoes or 2ish cups chopped fresh tomatoes
1/2 a lemon's worth of fresh juice, about a tablespoon
1 - 2 tablespoons Worcestershire sauce
1 tablespoon Louisiana Style hot sauce
Salt and Pepper to taste
1 1/2 cups (1 can's worth if using canned, drained) cooked black-eyed peas
Heat oil in large skillet or wok over medium. Saute the onion until soft, 5ish minutes.
Add rest of ingredients and stir-fry 10 or so minutes, until hot. Season with salt and pepper.
Dig in!