I'm going to post 2 blog entries today...one for the recipe below...and one for a fun little story about a critter we've had in our house...
OK, so this pasta is easy, yummy and super healthy!
I veganized it with Daiya cheese, but you can use regular cheese if you like.
Anyway, hope you enjoy!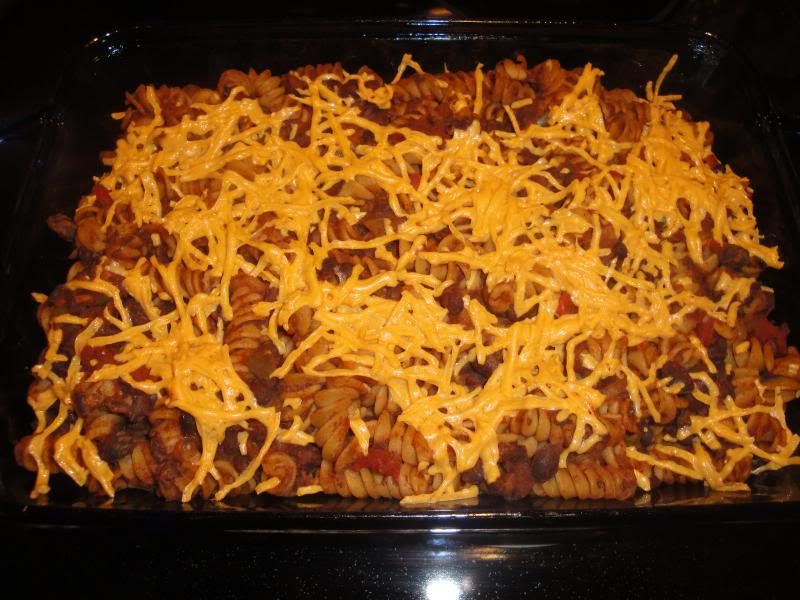 Southwest Black Bean Pasta Bake
2/3 box of rotini, cooked according to package directions in salted water
1 tablespoon olive oil
2 garlic cloves, minced
1 jalapeno, seeded and minced
1 1/2 to 2 cups cooked black beans (1 can if using canned, drained)
1 tablespoon chili powder
1/2 teaspoon dried oregano
2 cups salsa
1 cup shredded cheddar
Preheat oven to 350. Lightly grease a casserole dish.
Saute garlic and jalapeno in olive oil until tender, don't let garlic get too brown! Add black beans, chili powder and oregano. Stir in salsa and simmer for a 5 minutes. Stir in cooked pasta and pour into casserole dish. Top with cheese and cover with foil.
Bake for 25 minutes. Remove foil and bake for 10 more. Let sit 5 minutes before serving.
Dig in!