Last year, for my 31st birthday, a friend took me to a wonderful organic cafe...that I cannot remember the name of. I think I had something with turkey, but I remembered her sandwich, a simple boiled egg and cucumber sandwich on a hearty bread. I would never think to actually order something like this at a restaurant, when I go out to a meal, I usually order something I wouldn't normally make at home.
WELL...cut to almost a year later, and my pregnant mind couldn't stop thinking about that sandwich....
I eat it on white bread, on open faced French toast....whatever is available! Only 'funny' part...I use Vegan Mayo. I know, if you are going to cut the eggs, why are you eating eggs on Vegan Mayo? I prefer the texture and taste. Earth Balance's to be exact. Plus, Coop has the egg allergy so it's better to use in family dishes too.
But, moving on.....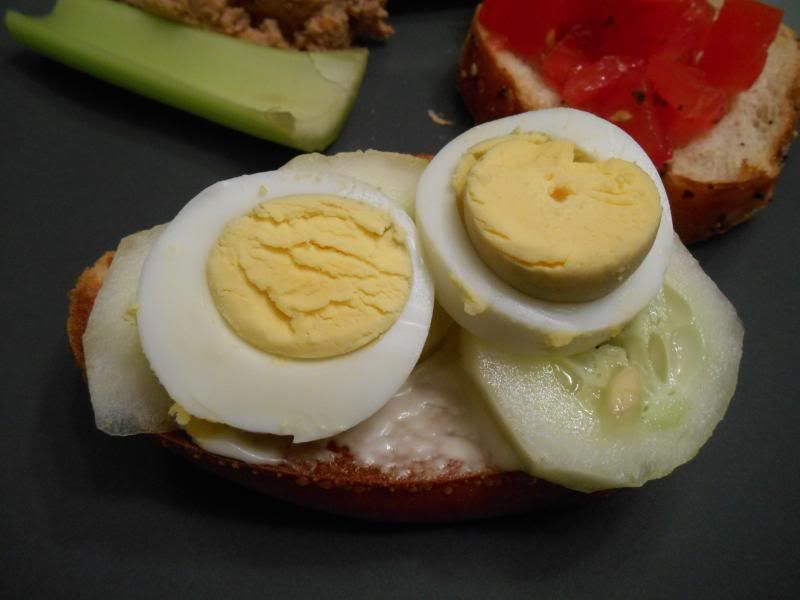 Simple Egg and Cucumber Sandwich
1 egg, boiled and sliced
Several slices of peeled cucumber
Mayo
Toasted bread
Slater the mayo on the toast and top with cucumber and eggs! Salt and pepper if you want....
Dig in!