WELL....due date is 2 days away...and no baby. Sigh. I have contractions on and off, nothing consistent. GET OUT BABY LUKE!!!
I got for my weekly check up on Tuesday, they are going to monitor me for 30 minutes to see how his heart rate is. After 40 weeks, they get a bit cramped and can start having irregular heart rates and lots of fun things like that...stress! So if he's ok, they will schedule me for an induction sometime next week, if his heart rate is off, they'll send me over right away. SO wish me luck...I keep hoping he'll just come on his own....but I don't hold my breath. Sigh.
I am cloth diapering this time around, so it's been exciting getting all of those in the mail and getting those prepped. I also ordered a
Boba wrap
to use with the little guy, can't wait to try it out!!
Anyway..onto the food. In my need to eat carbs and comfort foods during pregnancy....I came across a Thanksgiving issue of Better Homes and Gardens that included a recipe for sweet potatoes. The original recipe called for about 10 other ingredients, but I left them out and they came out great! They called for fried sage leaves for one, I am not a fan of sage. Or cilantro. Or really too much ginger. Or cumin, sometimes.
Well...here they are in all of their glory, and they were glorious....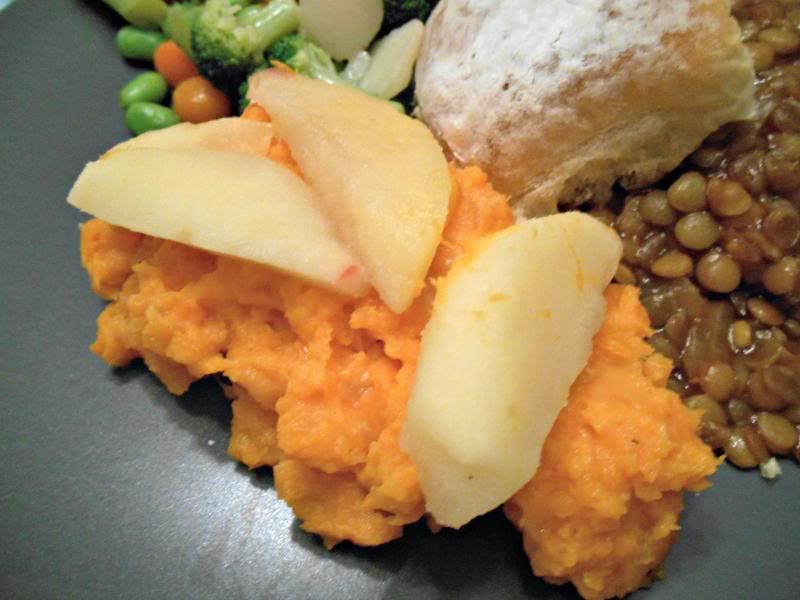 White Cheddar Mashed Sweet Potatoes with Fried Apples
2 pounds sweet potatoes, peeled and chopped
1/2 cup half and half
1/4 cup butter
3 ounces white cheddar, shredded
Salt and Pepper to taste
2 medium cooking apples, peeled, cored and sliced
Cook potatoes in boiling salted water until tender, about 15 minutes. Drain and return to pot. Mass with potato masher with butter and half and half until smooth. Stir in white cheddar salt and pepper.
Meanwhile, melt butter in skillet and add apples, cook until tender, about 5 to 7 minutes.
Transfer potatoes to serving dish and top with apples.
Dig in!!