Good Friday....and it is a Good Friday.
What are you Easter plans? We are egg hunting at my aunt's and lunch at my grandma's. We will have a busy, fun-filled day. I look forward to Cooper spending time with his little cousins...4 under 3 all together! Yay!
You know I have a thing for the produce stand, and one of my produce stand finds was this lovely, seedless cucumber...
I've seen these in the grocery stores, but always refused to pay 3 bucks for them, yes...3 bucks. 2 bucks if you are lucky. I bought it for 99 cents at the product stand!! Woot!
I also bought this lovely dill plant....
I haven't had much luck growing dill in the past, so I plan on doing a bit of research before planting it in the ground.
WELL, I combined these 2 lovely ingredients, and turned into a delicious cucumber salad!
Enjoy!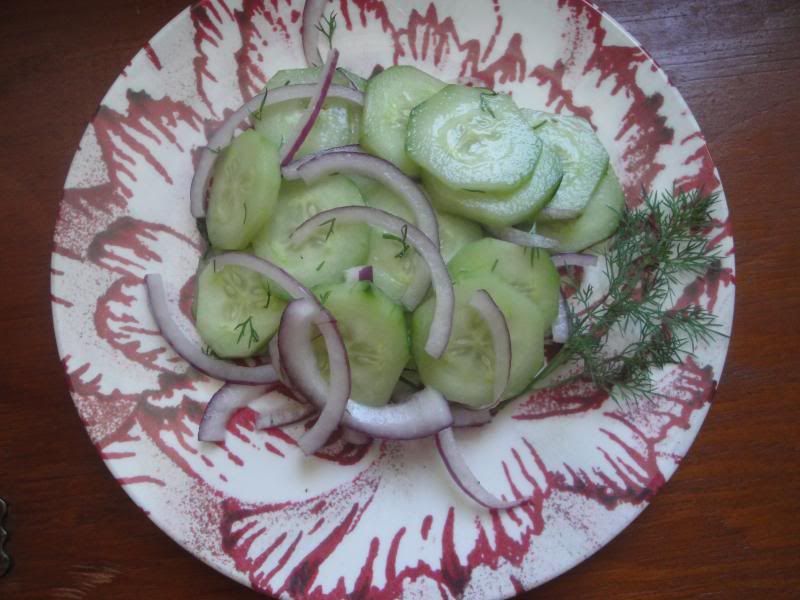 Cool As A Cucumber Salad
1/4 of a red onion, thinly sliced
3 tablespoons rice vinegar
1 seedless cucumber, peeled and thinly sliced
Salt and Pepper
1 to 2 tablespoons fresh chopped dill
Place cucumber slices in a colander and toss with a good shake of salt, spread out a bit and let drain for 10 minutes.
Meanwhile, toss onions in a bowl with vinegar.
Pat dry cucumbers, toss with onions, salt, pepper and dill.
Chill for about an hour before serving.
Dig in!!