I signed up for a
Goodies Box
subscription a few months ago and received my first box on Friday.
I am new to subscription boxes but have been looking for a good one for a few months now..and by good, I mean not 20 bucks a month plus shipping. Goodies Box is only 7 bucks a month...including shipping. I read a few reviews online, and they were all good. This is a fairly new box, so there aren't any long term subscribers yet.
Other reviews showed pictures of boxes crammed with 'goodies'...this month wasn't so 'crammed'...but it was good stuff.
They come in a pretty box...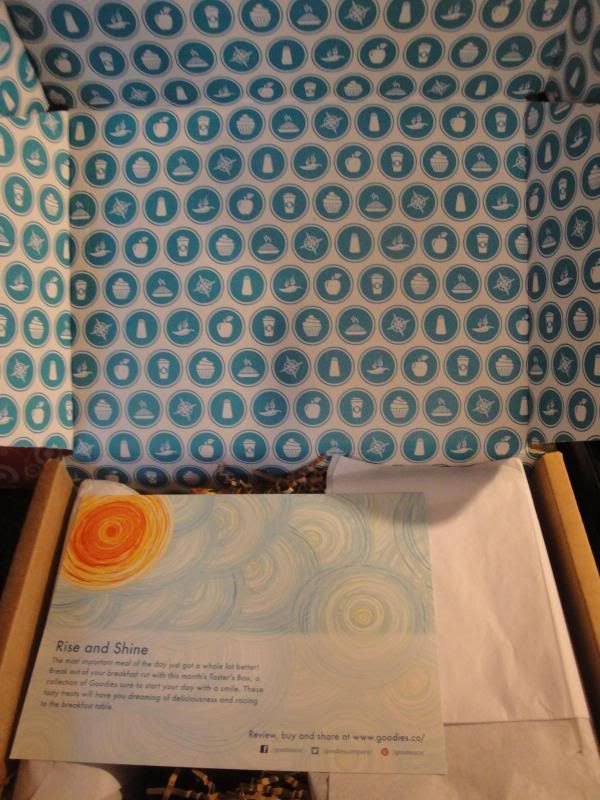 Each month has a theme...this month's was Rise and Shine...
My box included:
A full sized bottle of Alo Water - It was interesting. I've always seen aloe water's in the store, but wasn't exactly drawn to them. It was watermelon peach. Pretty good flavor, but it does have aloe pulp in it..which is strange. Not exactly like drinking OJ with pulp...
Ola! Granola - Very yummy. Mine was vanilla almond flavor. I had it this morning dry..the almonds were amazing.
Richland Orchards Greek Yogurt Granola Bar - I haven't had it yet, will get back to you. But it looks good!
BelVita Breakfast Biscuits - We already buy these, so nothing new. They are really good!
Bonne Maman Strawberry Preserves - FANTASTIC. The jar was so itty bitty...we each got a sampling on yesterday's breakfast toast. YUM.
Erin Baker's Breakfast Cookie - Again, very good. We had the PB flavor one. Kevin and I shared it.
Jovan's All Natural Instant Breakfast - I made it for Cooper, he wasn't very impressed....
Fig Newton - Blah...I don't care for Fig Newton's. Kevin ate it.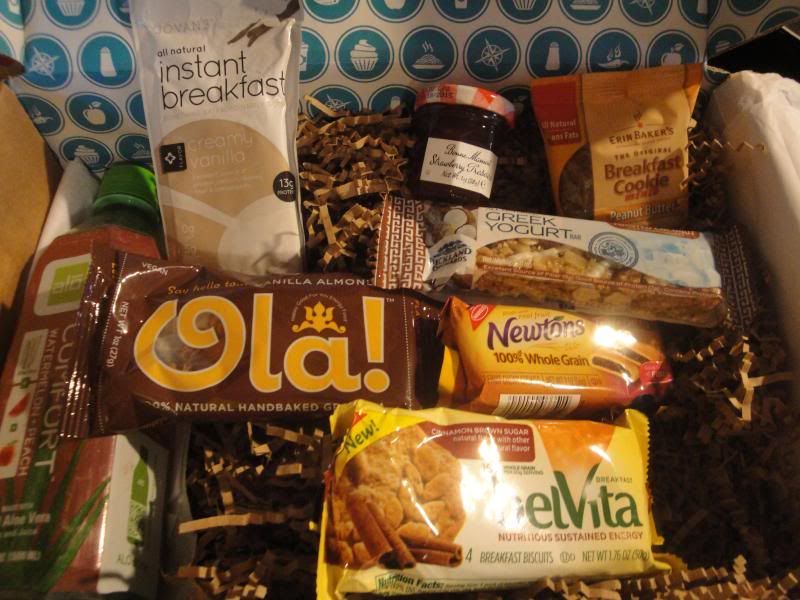 All in all...the box was good. I was thinking we would get more organic/all natural stuff...BelVita and Fig Newton don't really fit into those categories. By the way...when I first was on the hunt for BelVita Breakfast Cookies...I had to ask where they were. I got a lot of funny looks, people thought I was asking for Velveeta Breakfast Cookies...gag and lol.
I will keep getting this box, for a few months at least....and post the reviews here. Try it out yourself, 7 bucks isn't bad! You do have to apply for an invitation. I only had to wait about a week for mine, but didn't get my box for almost 2 months.