Several years back, I went for lunch with a friend at Chili's and got their soup and salad lunch. I tried their Southwest Veg Soup. It was SO GOOD! Sadly, it's no longer on the menu. I stumbled across a copycat recipe recently and thought I would give it a try. I added a bit extra to it to bulk it up a bit. It wasn't as spicy as the Chili's version, but it was good! Coop had 2 bowls and Kevin even liked it. He's not a big soup person, so I was surprised!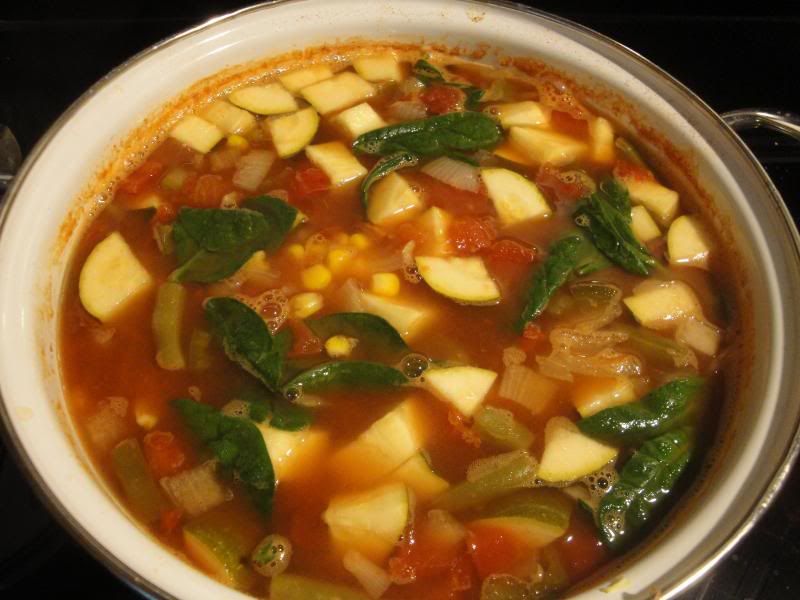 Southwest Veggie Soup
8 cups vegetable broth
14 oz can diced tomatoes, undrained
1 can white kidney beans, undrained
1 cup frozen corn
1 cup frozen green beans
1 small green pepper, diced
1 small onion, diced
1 14 oz can tomato sauce
1 small zucchini, chopped
Handful of spinach
1 to 2 cups cooked brown rice
Mix broth, beans, tomatoes, corn, green beans, green pepper, onion, tomato sauce and zucchini in a soup pot and bring to a boil. Reduce to a simmer and simmer for 45 minutes, until peppers, onion and zucchini are tender. Add in spinach and rice. Simmer until spinach is tender, 2 to 3 minutes.
Dig in!